</span>

Os controles biofísicos do crescimento de macroalgas em recifes subtropicais

Em ambientes recifais tropicais, os peixes herbívoros têm grande importância na dinâmica da cobertura bentônica.
Contudo, em recifes temperados, os ouriços-do-mar são os principais macro-herbívoros modificando a paisagem
bentônica. Aqui, aplicamos experimentos in situ para avaliar como fatores bióticos (herbivoria) ou abióticos
(nutrientes) influenciam a dinâmica da cobertura de macroalgas em recifes subtropicais. Nenhuma influência
significativa dos peixes herbívoros foi detectada, enquanto os ouriços-do-mar e os nutrientes da ressurgência
local, foram fatores determinantes influenciando as mudanças na cobertura bentônica. Deste modo, mesmo
predominando espécies de peixes herbívoros com afinidades tropicais nos recifes subtropicais estudados, os
fatores ecológicos predominantes são mais semelhantes aos de recifes temperados.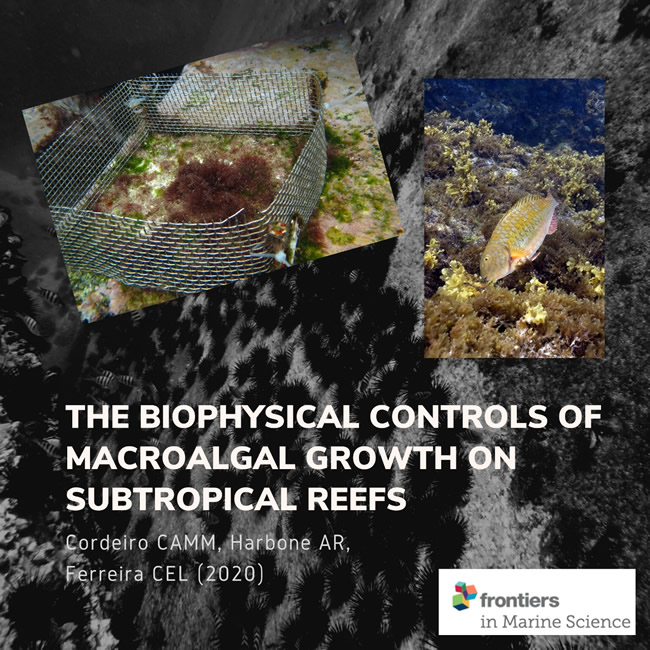 The Biophysical controls of macroalgal growth on subtropical reefs
In tropical environments, herbivorous fish play an important role in benthic cover dynamics. However, in temperate
reefs, sea urchins are the main macro-herbivores modifying the benthic compartment. Here, we applied in situ
experiments to assess how biotic (herbivore) or abiotic (nutrient) factors influence the macroalgal cover in
subtropical reefs. Herbivorous fish did influence significantly the benthic cover, while our sea urchins and nutrients
from the local upwelling were determinant for changes in benthic cover. Thus, despite the predominance of
fish species with tropical affinity, the predominant ecological factors in the subtropical reefs studied are similar to
those found in temperate reefs.