</span> Workshops: Priority marine areas for conservation in Brazil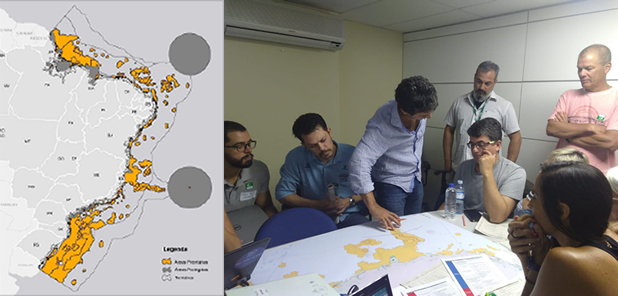 Priority areas map being analyzed by workgroup specialists.
The Brazilian Environmental Ministry, with support from CI and WWF, had organized a third national workshop for
discuss and indicate priority marine areas for conservation. The meeting happens last month in Brasília, gathering
about 80 specialists, including managers and researchers from all around the country, with participation of LECAR
PI, Carlos Ferreira. Priority Areas is to be used as an instrument to support decision-making politics in an objective
and participatory approach, whose results have been used in the planning and implementation of actions such as
the creation of marine protected areas, licensing and promotion of sustainable development. These areas are not
those already inside any marine protected area, but were defined through a systematic conservation planning,
based on geoprocessing and mathematical modeling, in a participatory process involving different society sectors.
During the three days' workshop specialists analyzed and filtered all attributes (threatened species, endemism,
impacts and opportunities) used to indicated the priority areas, thus resulting in high resolution maps. The final
report will be an important tool to sensitize politics in order to achieve better target and conservations aims.
The workshop team including Conservation International and World Wild Fund staff, plus researchers and managers from all around the country.
Written by: Carlos Ferreira September/2018