Publication: Genetic structure provides insights into the geographic origins and temporal change in the invasive
charru mussel (Sururu) in the southeastern United States.
One of our papers is already available in PLOS One, a very interesting article using population genetics to identify
the origin of an invasive mussel population in the USA. This work studied the genetic relationship among
populations of the Sururu mussel (Mytella charruana). We compared genetic variation throughout its native range in
South America compared to the invaded range in SE-USA. Through the genetic compositions of the populations it
was possible to identify the probable source populations of the invasive population. In this way, helping to
understand the effects of species dispersal through human activities. In a general context, this study warns why M.
charruana may become a growing threat to other localities through anthropogenic transport related to international
trade and shipping.
Já está disponível na revista PLOS One um de nossos trabalhos, um artigo muito interessante utilizando a
genética populacional para identificar a origem de uma população invasora de mexilhão nos EUA. Este trabalho
estudou a relação genética entre as populações do mexilhão Sururu (Mytella charruana). Comparamos a variação
genética em toda a sua faixa nativa na América do Sul em comparação com a faixa invadida no SE-EUA. Através
das composições genéticas das populações foi possível identificar as prováveis populações fonte da população
invasora. Dessa forma, ajudando a entender os efeitos das dispersões das espécies através das atividades
humanas. Num contexto geral, este estudo alerta porque M. charruana pode tornar-se uma ameaça crescente a
outras localidades através do transporte antropogênico relacionado ao comércio internacional e transporte
marítimo.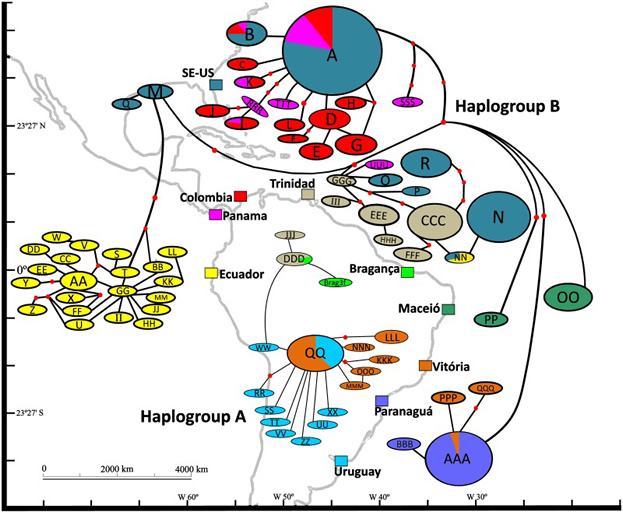 Map of sample sites with overlay network haplotype based on mtDNA COI. Haplotypes were labeled following the
naming convention found in Gillis et al. [24]. Circles represent frequency of individuals per haplotype. Colors
haplotype correspond to localities where haplotypes were found. Red nodes represent inferred haplotypes. Note
that Lineage A and B haplotypes do not connect into a single network.
Mapa de sites de amostra com sobreposição de rede de haplotipos do gene mtDNA COI. Os haplotipos foram
rotulados seguindo a convenção de nomenclatura em Gillis et al. [24]. Os círculos representam a frequência de
indivíduos por haplotipo. As cores correspondem às localidades onde haplótipos foram encontrados. Os nós
vermelhos representam haplótipos inferidos. Observe que os haplótipos Lineage A e B não se conectam em uma
única rede.
Calazans C SH, Walters LJ, Fernandes FC, Ferreira CEL, Hoffman EA. Genetic structure provides insights into the
geographic origins and temporal change in the invasive charru mussel (Sururu) in the southeastern United States.
PLoS One. 2017 Jul 7;12(7):e0180619. PDF
Written by: Sávio Calazans, 08/2017