Events: 13th International Coral Reef Symposium
This year's 13th International Coral Reef Symposium convened scientists, policy makers, and practitioners from all
over the world in the beautiful Hawaiian Islands. From June 19-24, great minds gathered in the gorgeous Hawaii
Convention Center in Honolulu to present current coral reef research and address the Symposium's theme,
"Bridging Science to Policy." With approximately 2500 attendees and over eighty different scientific sessions and ten
concurrent oral presentation sessions, there was no shortage of great material from which to learn. Presenters
showcased research and conservation efforts occurring around the world, and stimulating hallway conversations
and coffee-break meetings were a great opportunity to share ideas and develop collaborations. With the exchange
of concepts and perspectives, ICRS helped to increase global knowledge and advance coral reef conservation.
LECAR was represented at the conference by Dr. Cadu Ferreira, PhD candidate Linda Eggertsen, and Fulbright
Researcher Whitney Goodell. Cadu presented his work on the spatial distribution of herbivorous fishes along a
temperature gradient on tropicalization of temperate sites session, Linda talked about seascape connectivity and
nursery habitats of reef systems in South Bahia on a connectivity session, and Whitney presented work on mapping
of social and ecological spatial data from Arraial do Cabo's RESEX on social science applications to coral reefs
management session. It was a great opportunity to share LECAR's work with the scientific community!
MSc.  Whitney Goodell presenting her work on session 64
(https://www.sgmeet.com/icrs2016/sessionschedule.asp?SessionID=64).
Getting an autograph from Dr. Jack Randall recipient of the Darwin medal given by the International Society for Reef Studies
(https://www.sgmeet.com/icrs2016/plenary-lectures.asp).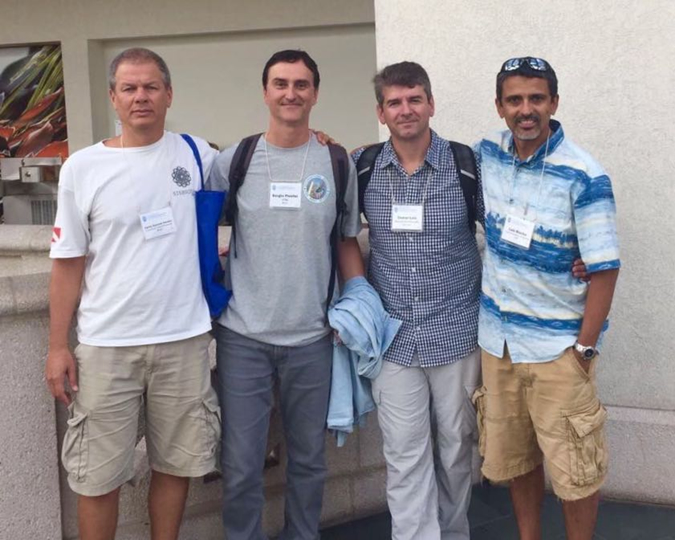 Brazilians from around the world met in Hawaii. From rigth to left Luiz Rocha (CalAcademy), Osmar Luiz Jr (Macquaire
University), Sergio Floeter (UFSC- Brazil), Cadu Ferreira (UFF-Brazil).
Written by: Whitney Goodell